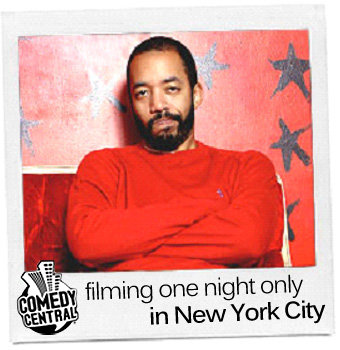 Wyatt Cenac: Comedy Person
Comedy Central Special
Filming Saturday, January 22nd, 2011
Two Shows @ 7:30pm & 9:30pm
NYU's Jack H. Skirball Center for the Performing Arts (map)
---
Before Wyatt Cenac became a writer/correspondent for THE DAILY SHOW, he was a rising star in the LA comedy scene. From stand-up to writing for Fox's KING OF THE HILL to starring in critically-acclaimed indie film, MEDICINE FOR MELANCHOLY, Wyatt has done it all. In 2009, he was named one of Variety's 10 Comics to Watch, and recently, Wyatt's "Rapper or Republican" bit has been called by RadarOnline "one of the funniest bits we've seen on THE DAILY SHOW in years". You won't want to miss seeing Wyatt doing his Comedy Central Special "Wyatt Cenac: Comedy Person" where he gets to put all his extraordinary skills on display.
BE PART OF OUR EXCLUSIVE LIVE AUDIENCE!
FILL OUT FREE TICKET FORM BELOW
This show has finished taping. Please check your local TV listings for showtimes.
---
*
All fields are required.
---
Please DO NOT submit double requests. If you requested tickets via E-Mail already, do NOT request them again here.
This information is NOT shared, sold or used for any purposes other than to accommodate your ticket requests. Our Privacy Policy is available
Here
.
Thank you very much for your interest in the show.
- TheBlackListNYC
Audience Department.