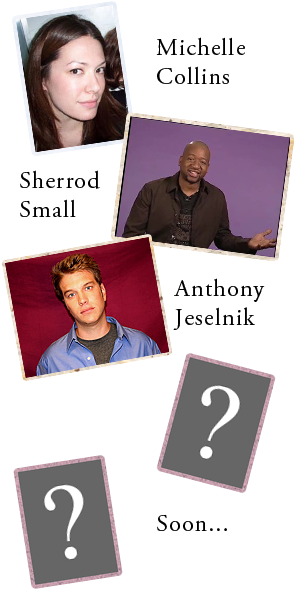 SEE TONIGHT'S FUNNIEST
WITH HOST CHRIS HARDWICK
A Stand-up Comedy Battle Royal
AT METROPOLIS STUDIOS (106th and Park Avenue)
Taping Thursday, September 9th


Two Shows

- 12:45PM and 2:30PM (Daytime)
Chris Hardwick's hosting gigs have taken him from MTV's hugely successful "Singled out" to his current hit "Web Soup". In between acting and stand-up, Chris has decided to host this battle royal of Comedy talent. Our talented panel includes Sherrod Small, Anthony Jeselnik and Michelle Collins as well as some exciting soon to be announced comics. Our panel will pit their lightening fast comedy skills against each other in a series of comedy challenges and you the audience will judge who gets the coveted title of "Tonight's Funniest". This fast-paced comedy competition is a must see for any fan of stand-up and for those who want an inside look into the twisted world of comedy writing.
BE PART OF OUR EXCLUSIVE LIVE AUDIENCE!
FILL OUT FREE TICKET FORM BELOW
This show has finished taping. Please check your local TV listings for showtimes.
---
*
All fields are required.
---
Please DO NOT submit double requests. If you requested tickets via E-Mail already, do NOT request them again here.
This information is NOT shared, sold or used for any purposes other than to accommodate your ticket requests. Our Privacy Policy is available
Here
.
Thank you very much for your interest in the show.
- TheBlackListNYC
Audience Department.