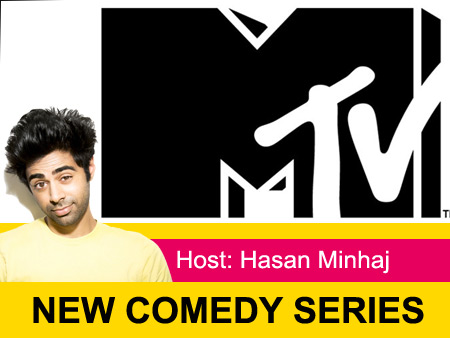 MTV's latest COMEDY SERIES
hosted by Hasan Minhaj
with 3 comic panelists
Taping at the MTV Studios in Times Square
Monday, July 30th - Sunday, August 5th
See Schedule Below
Monday, July 30th
Tuesday, July 31st
Wednesday, August 1st
Saturday, August 4th
Sunday, August 5th

---
MTV's Untitled Comedy Series rounds up some of the craziest sh*t found online and brings it to life for MTV. Things like messed up texts and Facebook posts, hilarious pictures of people engaging in bizarre activities, and even real life virtual fail stories are submitted and reenacted for this hysterical show. The new comedy show is hosted by
Hasan Minhaj
-- a You Tube favorite with his net series "The Truth with Hasan Minhaj" and a series regular on MTV's improv show 'Disaster Date.' Hasan has appeared on E!'s 'Chelsea Lately', Fox's 'The Wanda Sykes Show', and Comedy Central's 'Legend of Neil.' The show is shot in front of a live studio audience where Minhaj invites a panel of three comedians to joke, dissect, and play games within the various segments. Don't miss MTV's newest comedy series where the web gets OWNED.
BE PART OF OUR EXCLUSIVE LIVE AUDIENCE!
FILL OUT FREE TICKET FORM BELOW
This show has finished taping. Please check your local TV listings for showtimes.
---
*
All fields are required.
---
Please DO NOT submit double requests. If you requested tickets via E-Mail already, do NOT request them again here.
This information is NOT shared, sold or used for any purposes other than to accommodate your ticket requests. Our Privacy Policy is available
Here
.
Thank you very much for your interest in the show.
- TheBlackListNYC
Audience Department.