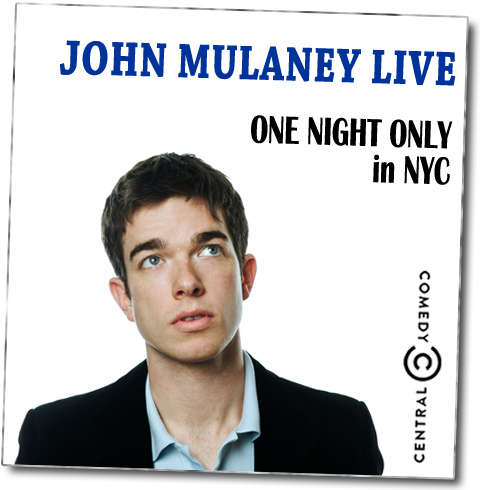 John Mulaney Live
Comedy Central Special
Filming Thursday, August 25th, 2011
Two Shows at 7:15PM and 9:15PM
NYU's Jack H. Skirball Center for the Performing Arts map
---
Over the past few years John Mulaney has established himself as one of the most respected comedians of his generation. He is best known for his appearances on Saturday Night Live's "Weekend Update" and for his own Comedy Central special. In 2009 Comedy Central Records released his album "The Top Part," which Punchline Magazine called "a near perfect debut." Mulaney has appeared on Late Night with Jimmy Fallon, Late Night with Conan O'Brien, Jimmy Kimmel Live and was a favorite on VH1's Best Week Ever. He was named one of VARIETY's "10 COMICS TO WATCH" and one of ENTERTAINMENT WEEKLY'S "COMEDIANS ON THE RISE." When not touring the country, Mulaney is a writer for "Saturday Night Live".
BE PART OF OUR EXCLUSIVE LIVE AUDIENCE!
FILL OUT FREE TICKET FORM BELOW
This show has finished taping. Please check your local TV listings for showtimes.
---
*
All fields are required.
---
Please DO NOT submit double requests. If you requested tickets via E-Mail already, do NOT request them again here.
This information is NOT shared, sold or used for any purposes other than to accommodate your ticket requests. Our Privacy Policy is available
Here
.
Thank you very much for your interest in the show.
- TheBlackListNYC
Audience Department.