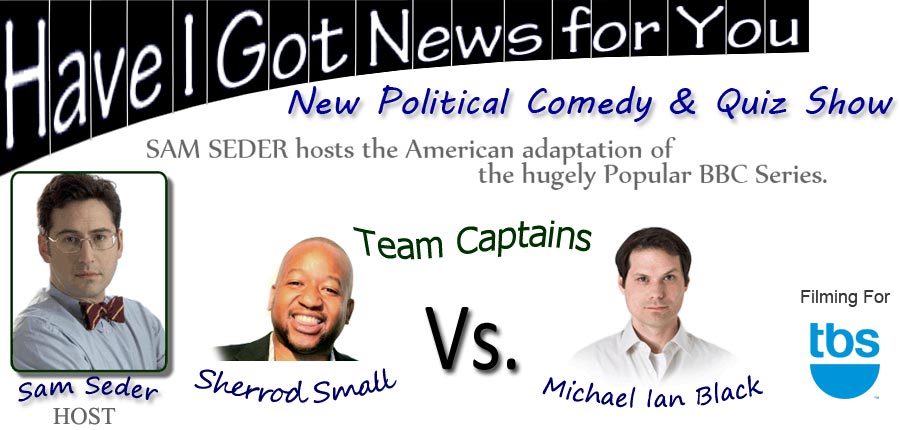 Filming on Friday November 9 , 2012 at 6:45PM
At Manhattan Center Studios
303 West 34th Street MAP
---
Comedian and AIR AMERICA on-air personality, SAM SEDER hosts the US adaptation of the hugely Popular BBC Series
Have I Got News For You
. The show has been running for 20 years in the UK and is a mix of irreverent political comedy and an antic quiz show. Team Captains Sherrod Small and Michael Ian Black will joust and jockey for points on weekly news questions with their celebrity team partners. Come see the debut of a great new
TBS
comedy show.
BE PART OF OUR EXCLUSIVE LIVE AUDIENCE!
FILL OUT FREE TICKET FORM BELOW
* FOR ALL SHOWS YOU MUST BE ON LINE AT LEAST

40 MINUTES IN ADVANCE
* YOU MUST BE 18 YEARS OR OLDER TO ATTEND THE SHOWS. YOU MUST LIVE IN THE NEW YORK CITY AREA (NY,NJ,CT) OR BE IN NYC DURING THE FILMING WEEK TO BE ELIGIBLE FOR TICKETS.
---
*
All fields are required.
---
Please DO NOT submit double requests. If you requested tickets via E-Mail already, do NOT request them again here.
If you experience any problems with the web form, you can try this Alternative Method.
This information is NOT shared, sold or used for any purposes other than to accommodate your ticket requests. Our Privacy Policy is available
Here
.
Thank you very much for your interest in the show.
- TheBlackListNYC
Audience Department.