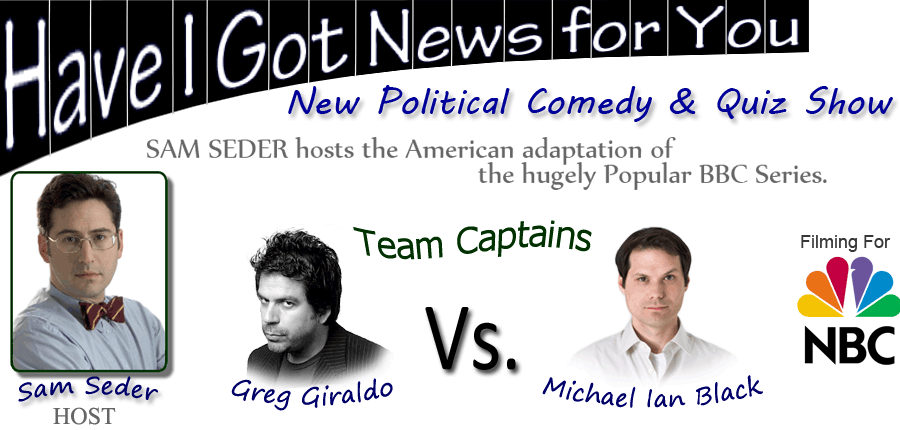 FRIDAY, NOV. 20, 2009 - 7:15PM

Taping at
Metropolis Studios at 106th Street and Park Ave.
in Manhattan
Comedian and AIR AMERICA on-air personality, SAM SEDER hosts the US adaptation of the hugely Popular BBC Series
Have I Got News For You
. The show has been running for 20 years in the UK and is a mix of irreverent political comedy and an antic quiz show. Team Captains Greg Giraldo and Michael Ian Black will joust and jockey for points on weekly news questions with their celebrity team partners. Come see the debut of a great new
NBC
comedy show.
---
PLEASE NOTE
YOU MUST LIVE IN THE NYC AREA (NY, NJ, CT) AND BE 18 YEARS OR OLDER
TO BE ELIGIBLE FOR TICKETS.
As always, tickets are complimentary for this event.
For tickets to this exclusive free, live
NBC
pilot show, email us at
gotnews(at)theblacklistnyc.com
with the following information in both
the subject line and body
of your email:
1.
Your full name
2.
Your email address
One which will not put our reply to you in your trash folder and one which you check frequently.
If You have your email account with big ISPs like(Yahoo.com, AOL.com, Hotmail.com, etc..) please check your spam/junk box, or add our domain - theblacklistnyc.com - to your white list or address book.
3.
Your phone number(s)
4.
Your age range (35-40, 18-25, 50-55 etc.)
5.
Number of tickets -- 2 tickets is the maximum number we can allow per request.
SINCE THIS IS A LIVE EVENT WE EXPECT THAT IF YOU ASK FOR TICKETS YOU WILL BE USING THEM. Thanks.
Example: Gerald Ford / hardknockprez@exwhitehouse.com / (212 ) 555-1212 / 90-100 / 2 tickets
PS: We know Gerald Ford died in 2006 it is just an example.
This information is NOT shared or used for any other purposes other than to accommodate your ticket requests.
Our Privacy Policy is available
Here
.
The show will last approximately 2 hours and you must stay with us for the entire taping.
YOU MUST BE ON LINE AT LEAST 45 MINUTES IN ADVANCE
(Show Starts at 7:15PM - FRIDAY, NOV. 20, 2009)
We will contact you via email with a detailed confirmation if there are tickets available.
You should hear from us within a few days of your request but at latest by 6PM on THURSDAY, November 19.
PLEASE DO NOT EMAIL US DUPLICATE REQUESTS. If you must email us again please put "2ND REQUEST" in the subject line of your email. Thanks.
You can find more information about Sam Seder at
www.samsedershow.com
, Greg Giraldo at
www.greggiraldo.com
, Michael Ian Black at
www.michaelianblack.net
Come join us for
NBC
's
"HAVE I GOT NEWS FOR YOU"
with host
Sam Seder
and
team captains
Greg Giraldo
and
Michael Ian Black
Comedy on the political edge!