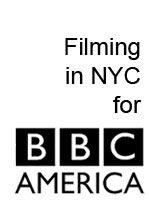 with Graham Norton
Filming at Manhattan Center Studios
34th Street and 8th Avenue MAP
September 26th - 29th and October 3rd-5th
---
"Would You Rather with Graham Norton" is a new series taping for BBC America in New York City. It is a 1/2 hour panel show that features comedians and celebrities engaging in the popular game "Would You Rather." Graham will present the panel with predicaments ranging from the philosophical to the preposterous. The panel muse, deliberate, discuss and argue before deciding which choice they would make. Don't miss all the naughty fun with Graham and his fabulous panelists.
BE PART OF OUR EXCLUSIVE LIVE AUDIENCE!
FILL OUT FREE TICKET FORM BELOW
This show has finished taping. Please check your local TV listings for showtimes.
---
*
All fields are required.
---
Please DO NOT submit double requests. If you requested tickets via E-Mail already, do NOT request them again here.
This information is NOT shared, sold or used for any purposes other than to accommodate your ticket requests. Our Privacy Policy is available
Here
.
Thank you very much for your interest in the show.
- TheBlackListNYC
Audience Department.