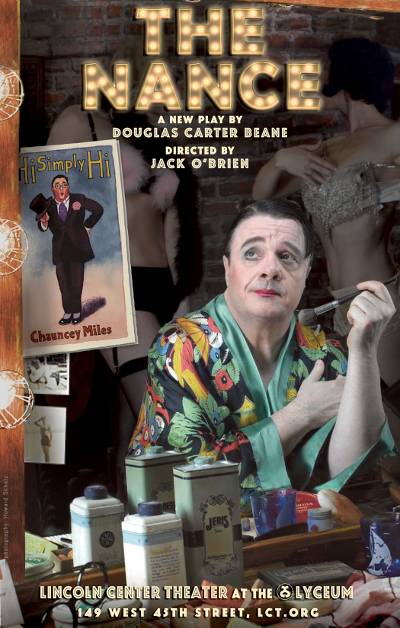 SEE BROADWAY HIT THE NANCE
Being taped for PBS's Live From
Lincoln Center
3 Amazing performances before the official end of

the Broadway Run
Tuesday, August 13 - 3PM and
Wednesday, August 14 - 2PM & 8PM
Produced by Lincoln Center Theater
At the Lyceum Theater
149 West 45th Street, NYC
Tickets are complimentary as always.
---
THE NANCE
A new play by Douglas Carter Beane Directed by Jack O'Brien with Nathan Lane Jenni Barber, Andréa Burns, Cady Huffman, Jonny Orsini and Lewis J. Stadlen


"A HEARTFELT NEW PLAY SET IN THE TWILIGHT OF BURLESQUE."
-Brantley, The New York Times"NATHAN LANE IS AS HEARTBREAKING AS HE IS HILARIOUS!"
-Garder, USA Today
In the 1930s, burlesque impresarios welcomed the hilarious comics and musical parodies of vaudeville to their decidedly lowbrow niche. A headliner called "the nance" was a stereotypically camp homosexual and master of comic double entendre - usually played by a straight man.
Douglas Carter Beane's THE NANCE recreates the naughty, raucous world of burlesque's heyday and tells the backstage story of Chauncey Miles and his fellow performers. At a time when it is easy to play gay and dangerous to be gay, Chauncey's uproarious antics on the stage stand out in marked contrast to his offstage life.

Directed by 3-time Tony Award winner Jack O'Brien, THE NANCE welcomes 2-time Tony Award winner Nathan Lane back to Broadway as Chauncey.
BE PART OF OUR EXCLUSIVE LIVE AUDIENCE!
FILL OUT FREE TICKET FORM BELOW
* FOR ALL SHOWS YOU MUST ARRIVE AT LEAST

40 MINUTES IN ADVANCE
* YOU MUST BE 18 YEARS OR OLDER TO ATTEND THE SHOWS. YOU MUST LIVE IN THE NEW YORK CITY AREA (NY,NJ,CT) OR BE IN NYC DURING THE FILMING WEEK TO BE ELIGIBLE FOR TICKETS.
---
*
All fields are required.
---
Please DO NOT submit double requests. If you requested tickets via E-Mail already, do NOT request them again here.
If you experience any problems with the web form, you can try this Alternative Method.
This information is NOT shared, sold or used for any purposes other than to accommodate your ticket requests. Our Privacy Policy is available
Here
.
Thank you very much for your interest in the show.
- TheBlackListNYC
Audience Department.