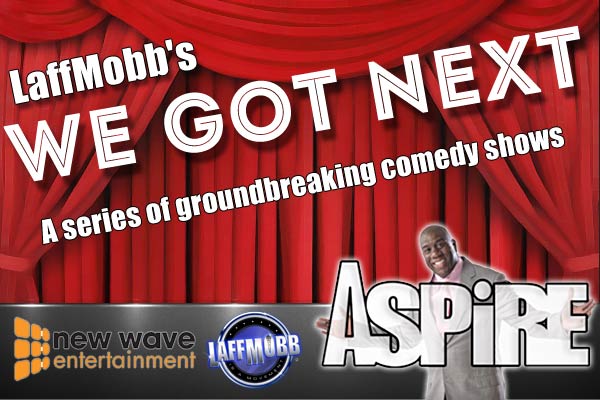 See LaffMobb's "We Got Next"
the best New Stand-up Comedy TV show
produced for Magic Johnson's Aspire Network and by LaffMobb, -- the legendary producer behind Def Comedy Jam
Filming at the historic El Portal Theater
5269 Lankershim Blvd., North Hollywood - MAP
Monday - Wednesday, December 9-11, 2013
Showtimes - 6:30PM and 8:45PM
Tickets Are Complimentary
---
Tyree Elaine, Mark Gregory, Pretty Ricki Fontaine, Mike Head, Boggie B, Key Lewis, Marcus Combs, Geoff Brown, Reyna Amaya, Donnivin Jordan, London Brown, Keshia Hunt, Tobe Hixx, Jamal Doman, Yoursie Thomas, Trey Elliott, Leighann Lord, Eddie Bryant, Malik S, Erin Jackson, Tony Baker, Antoine Young, Davell Taylor, Debra Terry, DC Ervin, Austin Hall, Maronzio Vance, Clay Thomas, Jay Phillips, Barry Brewer, Brandon Broady, Jay Alexander, Dondre Whitfield, BT Kingsley, Kevin Simpson, Meshelle, Red Grant and Jay Lamont.

Laff Mobb and Magic Johnson's Aspire network have joined forces to bring you the bright new stars in comedy. Move over Def Jam there are some incredible new talents coming to the "We Got Next Stage." Each show will feature six to eight comedians. We guarantee you gut-busting laughter that won't break the rules too hard but will come on strong. This is comedy to inspire and entertain. Don't miss seeing this extraordinary range of talent at the legendary El Portal Theater.
BE PART OF OUR EXCLUSIVE LIVE AUDIENCE!
FILL OUT FREE TICKET FORM BELOW
This show has finished taping. Please check your local TV listings for showtimes.
---
*
All fields are required.
---
Please DO NOT submit double requests. If you requested tickets via E-Mail already, do NOT request them again here.
This information is NOT shared, sold or used for any purposes other than to accommodate your ticket requests. Our Privacy Policy is available
Here
.
Thank you very much for your interest in the show.
- TheBlackListNYC
Audience Department.