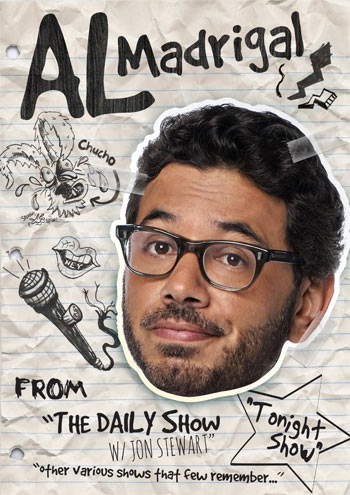 Al Madrigal
Comedy Central One Hour

Stand-up Special
Thursday, October 25, 2012
Two Shows - 7:00PM and 9:30PM
At The Moody Theater
310 W. Willie Nelson Blvd, Austin, TX 78701 Map
All Tickets are complimentary.
---
Named Best Stand-Up Comedian by the HBO/U.S. Comedy Arts Festival in Aspen, Al Madrigal's comedy has been called "dynamic" by The New York Times. He is now a seasoned correspondent on "The Daily Show." His unique, spontaneous and fast-paced lyrical storytelling style has made him a regular on television with numerous appearances on Comedy Central including his own half-hour Comedy Central Presents Special and appearances on John Oliver's New York Stand-up Show and Pretend Time with Nick Swardson. Al has also appeared on "The Tonight Show," and "Conan" as well as multiple appearances on "Lopez Tonight," "The Late Late Show with Craig Ferguson" and "Jimmy Kimmel Live." Al also has his share of acting credits. He has appeared on CBS's "Welcome to the Captain" with Jeffrey Tambor and "Gary, Unmarried" with Jay Mohr. Al was on "Free Agents" on NBC with Hank Azaria. Al brings his huge talents to Austin, be lucky enough to see him live.
BE PART OF OUR EXCLUSIVE LIVE AUDIENCE!
FILL OUT FREE TICKET FORM BELOW
This show has finished taping. Please check your local TV listings for showtimes.
---
*
All fields are required.
---
Please DO NOT submit double requests. If you requested tickets via E-Mail already, do NOT request them again here.
This information is NOT shared, sold or used for any purposes other than to accommodate your ticket requests. Our Privacy Policy is available
Here
.
Thank you very much for your interest in the show.
- TheBlackList
Audience Department.