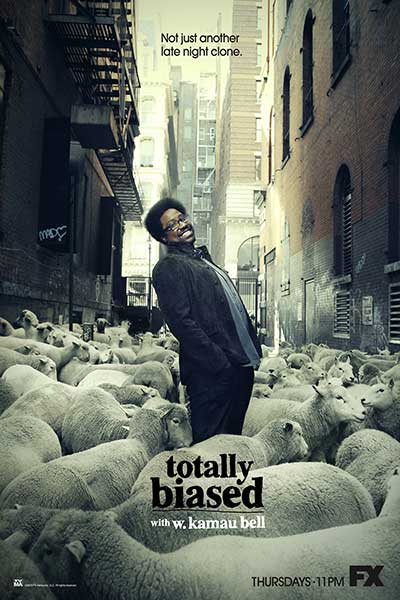 FX's Series "Totally Biased
with W. Kamau Bell"
Now Picked Up For 5 Nights a Week

on FXX Starting in September!
Taping Thursday Afternoons at 2:45PM
May 9th - June 20th, 2013
At Manhattan Center Studios
311 West 34th Street, NYC MAP
---
In the
FX show
, 'Totally Biased with W. Kamau Bell',
Bell
dissects a multitude of topics including politics, pop culture, race, religion, and the media. The series includes his commentary along with features from other contributors and sketch comedy.
The New York Times
said of Bell that he is 'the most promising talent in political comedy in many years,'.
The SF Weekly
has called Kamau "smart, stylish, and very much in the mold of politically outspoken comedians like Dave Chappelle," Kamau has been voted San Francisco's best comedian by the
SF Weekly
, the
SF Bay Guardian
, and
7×7 Magazine
.
Time Out NY
gives him "FOUR STARS" and raves, "Bell finds comic gold… offering provocative insights into an ugly reality." Chris Rock is one of the series' executive producers. Don't miss out on the fun and insight, see "Totally Biased
with W. Kamau Bell".
BE PART OF OUR EXCLUSIVE LIVE AUDIENCE!
FILL OUT FREE TICKET FORM BELOW
* FOR ALL SHOWS YOU MUST BE ON LINE AT LEAST

40 MINUTES IN ADVANCE
* YOU MUST BE 18 YEARS OR OLDER TO ATTEND THE SHOWS. YOU MUST LIVE IN THE NEW YORK CITY AREA (NY,NJ,CT) OR BE IN NYC DURING THE FILMING WEEK TO BE ELIGIBLE FOR TICKETS.
---
*
All fields are required.
---
Please DO NOT submit double requests. If you requested tickets via E-Mail already, do NOT request them again here.
If you experience any problems with the web form, you can try this Alternative Method.
This information is NOT shared, sold or used for any purposes other than to accommodate your ticket requests. Our Privacy Policy is available
Here
.
Thank you very much for your interest in the show.
- TheBlackListNYC
Audience Department.