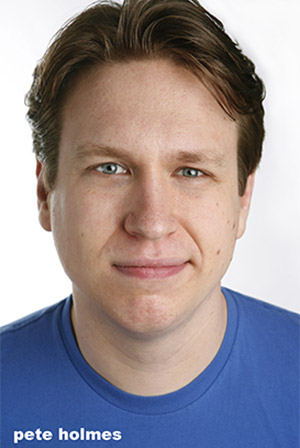 Pete Holmes
Comedy Central One Hour

Stand-up Special
Tuesday, October 23, 2012
Two Shows - 7:00PM and 9:30PM
At The Moody Theater
310 W. Willie Nelson Blvd, Austin, TX 78701 Map
All Tickets are complimentary.
---
Pete Holmes is a nationally touring standup comedian, actor, improviser, writer and cartoonist. As a standup, Pete has appeared on his own half-hour "Comedy Central Presents," "Premium Blend" and "John Oliver's New York Stand Up Show." He can also be seen on virtually every VH1 panel show ever, including "Best Week Ever." Pete has written for and voices multiple characters on Comedy Central's "Ugly Americans" and is the voice and writer of the popular "E*Trade Baby" commercials.Pete's short videos are ubiquitous on the "internet" and are featured regularly on "CollegeHumor.com," "Tosh.0," "Atom TV" and "Atom.com." His hit podcast "You Made it Weird" is tailor-made for Austin, Texas and he couldn't be more excited to be doing his Comedy Central One Hour Special in the place that put Weird on the map.
BE PART OF OUR EXCLUSIVE LIVE AUDIENCE!
FILL OUT FREE TICKET FORM BELOW
This show has finished taping. Please check your local TV listings for showtimes.
---
*
All fields are required.
---
Please DO NOT submit double requests. If you requested tickets via E-Mail already, do NOT request them again here.
This information is NOT shared, sold or used for any purposes other than to accommodate your ticket requests. Our Privacy Policy is available
Here
.
Thank you very much for your interest in the show.
- TheBlackList
Audience Department.