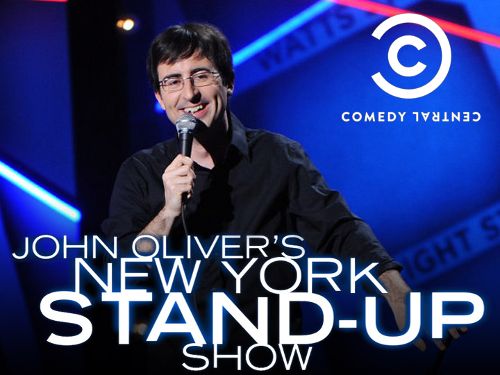 John Oliver's
New York Stand-Up Show
Monday, Tuesday, Wednesday
June 3rd, 4th, & 5th
Shows at 7:30PM
Filming at Webster Hall
125 East 11th Street, Manhattan MAP
---
Just prior to his summer stint guest-hosting The Daily show on June 10th, stand-up comedian and Daily Show correspondent,
John Oliver
, will host the 4th season of his stand-up show for Comedy Central, featuring some of America's most influential stand-up stars and great upcoming comics. Season 4 has so much talent packed into each show you won't want to miss it. The amazing line up this year includes
James Adomian, W. Kamau Bell, Mark Forward, Travon Free, Ron Funches, Gary Gulman, Phil Hanley, Seth Herzog, Pete Holmes, Colin Jost, Jessi Klein, Jamie Lee, Tom Lennon, Joe Mande, Morgan Murphy, Sara Schaefer, Rory Scovel, Dan Soder, Paul F. Tompkins, Nick Turner, Brooke Van Poppelen, Reggie Watts, Ali Wong and Joe Zimmerman
.
BE PART OF OUR EXCLUSIVE LIVE AUDIENCE!
FILL OUT FREE TICKET FORM BELOW
* FOR ALL SHOWS YOU MUST BE ON LINE AT LEAST

40 MINUTES IN ADVANCE
* YOU MUST BE 18 YEARS OR OLDER TO ATTEND THE SHOWS. YOU MUST LIVE IN THE NEW YORK CITY AREA (NY,NJ,CT) OR BE IN NYC DURING THE FILMING WEEK TO BE ELIGIBLE FOR TICKETS.
---
*
All fields are required.
---
Please DO NOT submit double requests. If you requested tickets via E-Mail already, do NOT request them again here.
If you experience any problems with the web form, you can try this Alternative Method.
This information is NOT shared, sold or used for any purposes other than to accommodate your ticket requests. Our Privacy Policy is available
Here
.
Thank you very much for your interest in the show.
- TheBlackListNYC
Audience Department.