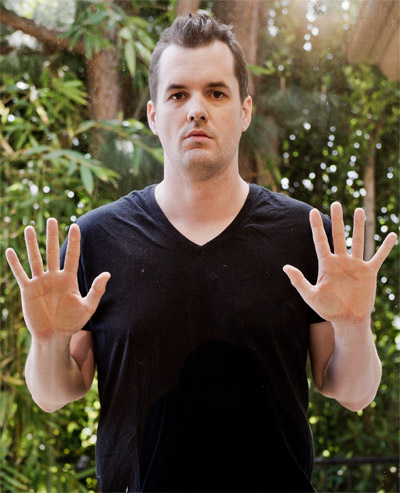 See Jim Jefferies Tape
his Comedy Television Special
Saturday July 14, 2012
Two shows - 7PM and 10PM
At Novellus Theater at Yerba Buena Center for the Arts
700 Howard St. at 3rd
San Francisco, CA 94103
MAP
Tickets are absolutely FREE!
---
Jim Jefferies is shockingly charming and brutally honest. He's also one of the funniest comics on the planet.
Jefferies
is an Australian who honed his skills over here in the UK before bringing his unique brand of anecdotal humor to U.S. audiences for the last couple of years. His record of sold out runs at the Edinburgh Festival have made him famous and a festival favorite.
As he shows every night on stage, Jefferies isn't about to shy away from a sacred cow. - and in his full-length HBO solo special aptly named "Swear to God", the fast-witted, fast-rising comic showed why he has taken the comedy world by storm. Don't miss being a part of the audience for his next one hour Comedy Special taping this weekend in San Francisco!
BE PART OF OUR EXCLUSIVE LIVE AUDIENCE!
FILL OUT FREE TICKET FORM BELOW
This show has finished taping. Please check your local TV listings for showtimes.
---
*
All fields are required.
---
Please DO NOT submit double requests. If you requested tickets via E-Mail already, do NOT request them again here.
This information is NOT shared, sold or used for any purposes other than to accommodate your ticket requests. Our Privacy Policy is available
Here
.
Thank you very much for your interest in the show.
- TheBlackListNYC
Audience Department.